Why is goal setting important?
Since God has a plan for us it seems counterproductive to create our own goals to attain his plans, but we are told in Proverbs 16:3 to "Commit your work to the Lord, and your plans will be established."
Goal setting is one of the key elements in creating the focus we need to achieve a future God has planned for us.
Micheal Hyatt has a new book out that discusses his 5 step plan for achieving your goals, which includes a new goal setting acronym: S.M.A.R.T.E.R. Listen to his Goal Setting for Beginners podcast.
If you want to go through his process, I highly recommend his book.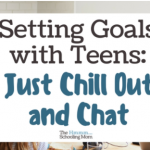 Of course, there are many different ways to thoughts on how to accomplish a goal. Amy Dingmann over at The Hmmmschooling Mom has a completely laid-back approach to how to get teens to set goals.
Goal setting is important if you want to get to the place God has in store for you. The biggest concern is to make sure that your goals follow his plans. Proverbs 19:21 says "Many are the plans in the minds of a man, but it is the purpose of the Lord that will stand." So we always pray for his guidance in all we do.