Matthew 28:19-20

 

NIV
19 Therefore go and make disciples of all nations, baptizing them in the name of the Father and of the Son and of the Holy Spirit, 20 and teaching them to obey everything I have commanded you. And surely I am with you always, to the very end of the age."
Allen Parr gives us a unique insight into the difference between Career and Calling in this video and article.
Career or Calling What Is the Difference?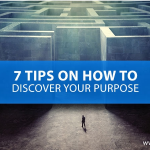 In the video, he references this article 7 Tips on How to Discover Your Purpose
The questions are thought-provoking so be prepared to take some time to work through your answers.
This is why we should be in constant prayer for God to lead us in the right direction to fulfill his plans for our lives.